Our Story
At a young age, Director Alec Kindred felt called to use his aviation skills in missions. Since 2009, Alec has prayed daily for the Lord's leading for a mission aviation ministry based in Maine.
Long before Alec was thought of, a man by the name of Stan Harmon was well known in New England. He was a member of the Gideons and a true servant of the Lord. Stan had a burden for Mission Aviation to begin at the airport now known as the Limington Harmon Airport, in memory of Mr Harmon. Stan prayed for years for a Bible study to begin, and many pilots who knew Stan knew His burden. We believe Propelling the Gospel Missions is a product of Stan Harmon's prayers many years ago.
Phillippians 1:27 "Only let your conduct be worthy of the gospel of Christ, so that whether I come and see you or am absent, I may hear of your affairs, that you stand fast in one spirit, with one mind striving together for the faith of the gospel."
We strive to share the Gospel of Jesus Christ effectively and promptly by the use of mission aviation by outreach, instruction and encouragement. We host a monthly hangar Bible night as we also are praying and preparing a Cessna 150 to go to the mission field of Ukraine as the Lord leads. PTG missions is also in the process of training up pilots and mechanics so that as we "strive together" we can all Propel the Gospel locally and globally. A normal day at PTG missions consists of preparing the airplane, praying for the opportunity to share the Gospel, flying to a rural airstrip in rural Maine, handing out free Bibles and begin building relationships with the ultimate goal of sharing Christ's love. At times we will fly to join other churches in our region, sing, and preach and encourage local churches to remain faithful. Maine is the least churched state per capita, we do not need anymore small churches of Maine closing! Interested? Come join us for a mission flight! Lets propel!
Alec and his family had the opportunity to visit Kingdom Air Corps in Alaska to get a visual of what the Lord can do with a thriving aviation ministry. Immediately upon their return, they were offered a hangar at the Limington Airport. The Lord has truly guided their steps along the way.
Hangar Bible Nights began, and have become a very strong piece of the ministry.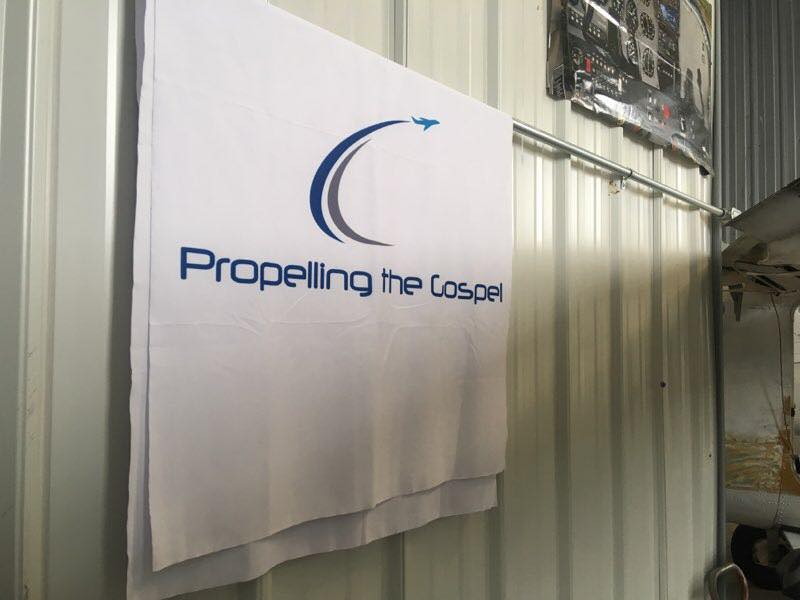 December 2017: Propelling the Gospel Missions Inc. officially became a non profit organization. The board members of this ministry are excited and thrilled to see where the Lord is leading this ministry.
PTG Missions Inc. officially purchased their first mission airplane, N12ER, a Piper PA-28-151 Piper Warrior. We are humbled to become stewards of the Lord's mission airplane.
Alec and his family spent the first summer very busy by assisting small churches in Maine with youth outreach events. 5 young people received Christ as their personal Savior this summer! Alec flew N12ER over 1000nm just within the state of Maine between July and August, spreading the Gospel from airstrip to airstrip across the state. PTG Missions assisted Inspirational Aviation Ministries Inc. with a week long teen pilot camp where N12ER flew 33 hours training future missionary pilots out of a golf course in central Maine. In September PTG missions held their first annual mission aviation campout/ fly out weekend teen camp. 9 students attend the weekend event full of Bible study with various missionary pilots from around the globe, aircraft maintenance training, flight training, and outreach as they all camped out alongside the runway at 63B. This summer was busy to say the least, but it was worth it all to see young people's lives changed and influenced to "strive together for the faith of the Gospel." Bring on the fall!